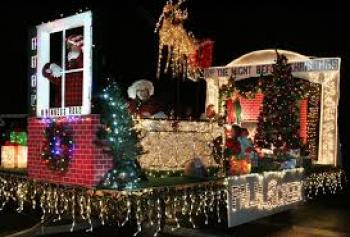 More local events from your Arizona Realtor Courtney Ramirez 520-252-9640
The APS Electric Light Parade, now in its 27th year, delights tens of thousands of specatators each year. The links on this page will help you prepare for and plan your trip to the parade.
Crowds are typically very large near the parade start on Central Avenue at Montebello. To find lighter crowds along the two-mile parade route, try Camelback road between 7th Street and Camelback and 7th Street south of Camelback. Want a less crowded way to enjoy the lighted floats of the parade? Join the parade entry judging celebration on Dec. 6 from 5 to 8 p.m. at North Phoenix Baptist Church, Central & Bethany Homes Road. Free parking is available in the south church parking lot.
Judges use this time to pick award winners for large floats and it's a great way to see the lighted floats up close without the crowds of parade night. Students from ASU also will be on hand at this event with free kids' activities and the little ones can even visit with Santa. CLICK MY LINK BELOW THESE PHOTOS TO VIEW ARIZONA HOMES FOR SALE. Call me today for your FREE real estate consultation 520-252-9640
Click here for all the results